#TeamHaringey6 - Sports News - Estudiantes Annual Awards 2021/2022

News / 20 May
#TeamHaringey6 welcomed Eric Dier this week for Estudiantes Annual Awards 2021/2022 the Tottenham Hotspur and England footballer joined 100 students and guests for the awards night.
Estudiantes use high quality football provision to encourage students to excel in their education, with many of the most outstanding student athletes at the club studying at #H6.
Eric Dier, who is an ambassador for sport development charity called Sported, spoke to the students about his career in professional football before answering questions from the students.
The evening concluded with the awards for inclusion team and non-inclusion 'The students of the year' which was Jude Geoghegan and Sala Abakar they were both voted for the way they have excelled in both education and sport this year.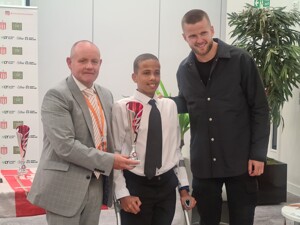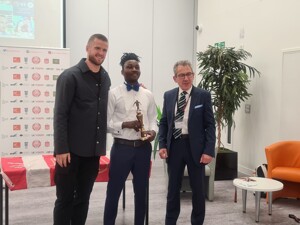 Thank you to all of the guests who attended on the evening, including trustees and governors from the college, Dalwardin Babu, Reverend John Wood, as well guests from Sported, London Youth, the London FA and the Amateur FA.
---
#TeamHaringey6 continues to offer truly outstanding opportunities to play sport for college students across a wide range of sports.

To know more about sports provision at the college, please contact: darren.wiltshire@haringey6.ac.uk

Estudiantes London is a free football program for young people in North London. Uefa qualified coaches provide daily training sessions, with two games per week, including league games. All games are recorded for analysis and players also have access to gym and futsal for their development. For more information or to join please contact info@estudiantes.co.uk
---
APPLICATIONS
Applications for September 2022 are open - Apply Now on our website!
Keep up to date by following us