#TeamHaringey6 - June 2022 so far!

News / 17 June
#TeamHaringey6 students and teachers have been in high spirits especially as it is exam season for them however he have still kept up with the level of having external trips and guest.
Our BTEC Level 3 Y2 Extended Diploma Business Class who are currently finishing up two Units (Investigating Retail Business and Visual Merchandising), were asked to investigate retail businesses within the Coal Drops Yard area. Within their investigation, they interviewed members of staff to be informed of the local structures of each of the local independent businesses, as well as reflecting and evaluating the stylistic visual merchandising choices made within each store.
The students worked in small groups when interviewing members of staff for each Coal Drops Yard store. Throughout the trip, they were able to enhance their collaborative skills, their resilience, independence and enjoyed hearing about the history of a new (and still ongoing) development that is very close to home.
Check out the below video which features the students on their trip.


---
Our #TeamHaringey6 Media students Gerco and Nora have been shadowing through EVCOM Plastic Pictures and Casual Films. From their comments they look like they thoroughly enjoyed it and we are very #H6Proud of them - below are their comments for the full article please click here #H6Experience #MoreThanACollege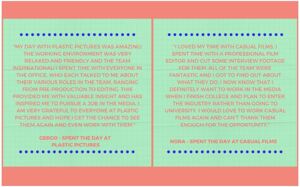 ---
Level 1 Public Services and Sport and Level 2 Public Services students went to Lee Valley White Water Centre as part of their course units where learners needed to participate in adventurous activities. Learners were thrown in the deep end and participated in Raft Building and Water Wipe out obstacle course. Learners were given the opportunity to participate in water based activities at Lee Valley White water Centre.
Challenges that learners faced were actually brazing the cold water and being fearless of the water wipe out challenge!
#TeamHaringey6 teacher Codi Murray says -
'It was amazing to see our learners really leap out of their comfort zone and work together as a team. They were all so well behaved and made our department proud as all learners gave it their all. Such a nice ending to the year to see so many smiling faces and a lot of sleepy faces on the way back! Very proud of them and a massive thank you to the staff at Lee Valley White Water Centre who supported our learners and made this experience one I don't think they will forget!'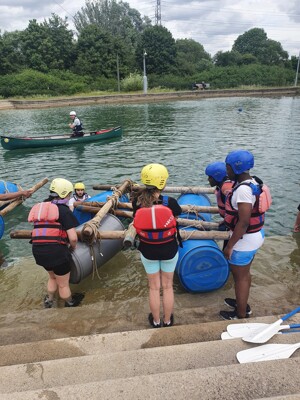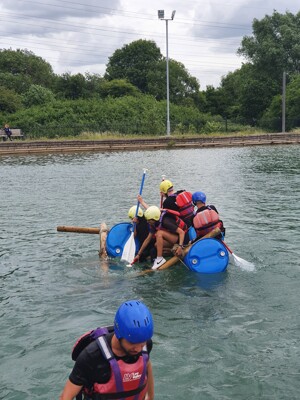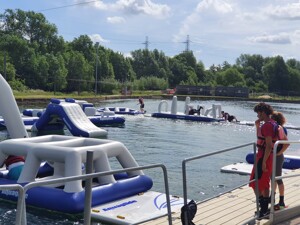 ---
Entry and Foundation went on an end-of-term trip to Teamsport Go-Karting in Edmonton, the drivers included: Joshua, Abdul, Oli, Burcin, Denicia, Charlotte and Hatty K
The first round was quite a challenge as our students, obviously had never driven before, but once they had done a few rounds woooooosh Joshua had us on the chase, Hatty explained -
'I`ve never seen anything like it. Then I`m at a standstill as we have been stopped due to Burcin crashing into the barriers then, wooooosh Oli wizzes past me, I`m in total shock, he could give Hamilton Lewis a run for his money!!!'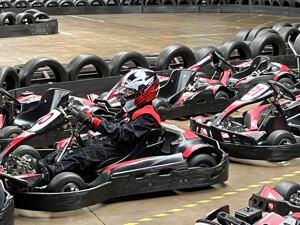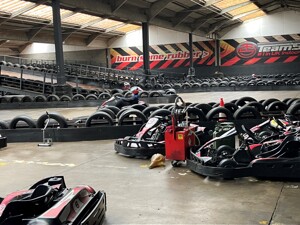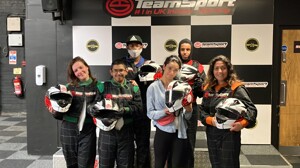 Denicia was a star, she was adamant that nothing was going to get in her way of experience this life-time achievement of getting behind the wheel of a petrol operated Kart. After finally getting used to the motion, she managed to do the first session. So overwhelming, such an achievement and so #H6Proud of our students.
The results came through, in the first race Josh came first, then Oli and Abdul 3rd.
In the second race we had Josh 1st what a star, then Charlotte 2nd, Abdul 3rd.
Special thanks to #CoachHatty – G10 /Enrichment Lead #H6
---
Keeping in line with the 'end of year' trips our next set of Entry and Foundation students enjoyed a trip to sunny Southend on Sea, as you can see they really enjoyed their day as well as the teachers #H6Proud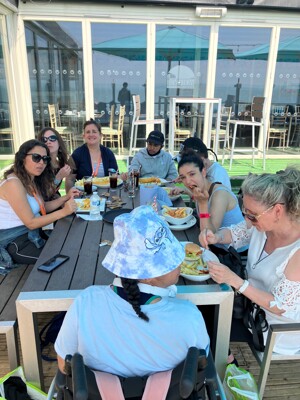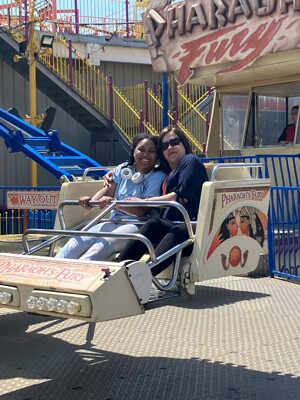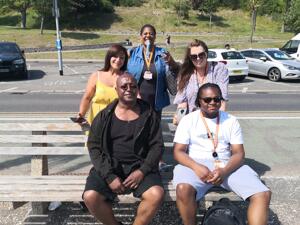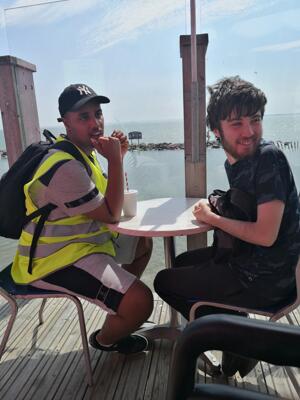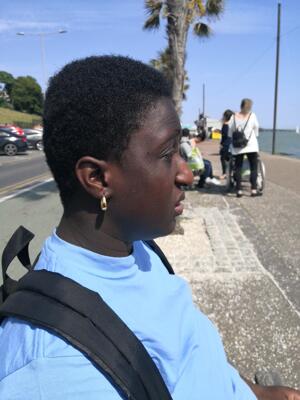 ---
A group of A Level and CPL students attend a talk at Macfarlanes by Reggie Nelson. Reggie spoke about his social mobility journey. Reggie was born and raised in a council estate in East London and both of his parents suffered from alcoholism. He dreamed of a university education, top job and financial wealth - but he had no idea how to achieve it. So, knocking on doors in affluent areas of London, Reggie asked the homeowners who opened their doors how they had achieved success. Eventually he knocked on the door of the home of Quintin Price, Global Head of Alpha Strategies at BlackRock – largest asset management firm globally. Impressed with Reggie's skills, determination and tenacity, Quintin offered Reggie a work experience opportunity. Reggie has since graduated, progressed his career in the financial sector and now talks to young people about how they can open doors to their careers. Reggie has published a book about his experiences. It was a fantastic and insightful talk and really engaging for the learners. Students found the talk thought provoking and insightful about their own futures and destinations and enjoyed being in the professional environment at Macfarlanes. Students had the opportunity to ask questions and Reggie took the time to talk 1-2-1 with all of our students and find out more about them, what they were studying and their future goals. It was such a fantastic and eye opening opportunity and we look forward to working closely with Macfarlanes in the future.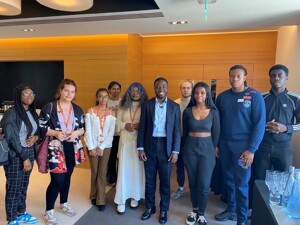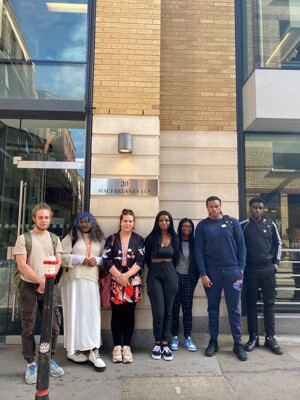 ---
Distinctive Solutions were running a Personal Finance workshop to our students and spoke to them about money management and giving them information about credit scores #H6Experience #MoreThanACollege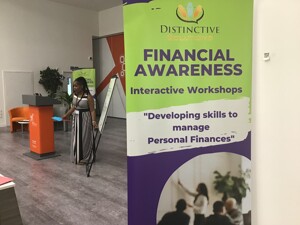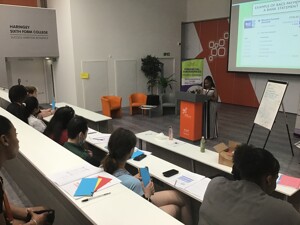 ---
We had a #TeamHaringey6 Spelling Bee Final congratulations #Chudi and to all of the students that took part we are all #H6Proud of you #H6Experience #MoreThanACollege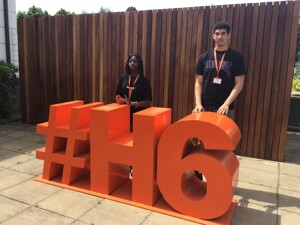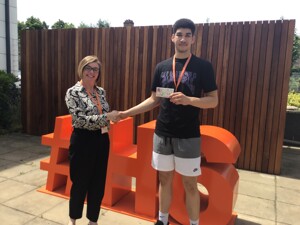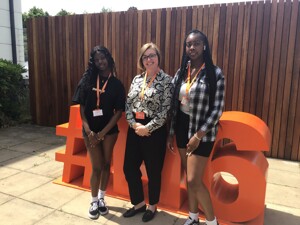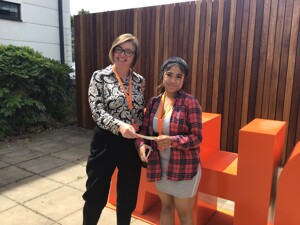 ---
Ending #TeamHaringey6 week on a high we had our first set of Graduations starting with our #Entry&Foundation we are so proud of them and what the have overcome again we are very #H6Proud of them.
Photos can be found in the gallery.
---
This week has been #Amazing as our students continue to #DiscoverTheDifference and enjoy the #H6Experience looking forward to next week for more learning, new activities and fun stuff as we are #MoreThanACollege
---
---
APPLICATIONS
Applications for September 2022 are open - Apply Now on our website!
Keep up to date by following us